FAFSA Workshop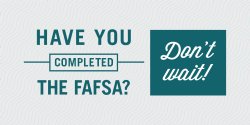 What

FAFSA Workshop

When

10/11/2018, 5:00 PM

–

7:00 PM

Where

TCCHS Media Center
Attention all TCCHS Seniors and their Parents/Guardians:

TCCHS will have a Free Application for Federal Student Aide (FAFSA) registration on October 10th and 11th from 5:00 pm until 7:00 pm in the Todd County Central Media Center. The Free Application for Federal Student Aid (FAFSA) is used to apply for federal, state and college-based financial aid for any post secondary education. Seniors with a parent/guardian will have the opportunity to come to the TCCHS library during the time mentioned and complete the FAFSA online. No appointment is necessary. People will be available to assist each parent/student in completing and submitting the FAFSA form at this time or answering questions. A list of particular items must be brought to or completed before this registration to be able to complete this process. A list below is provided.

1. Obtain an FSA ID (this takes the place of the FAFSA PIN NUMBER). You can
obtain an FSA ID at fsaid.ed.gov. Both the student and parent/guardian each need
their own FSA ID.
2. Student 2017 tax return and all W2's (if the student works or has worked)
3. Parent 2017 tax return and all W2's
4. Any 1099's the student or parent may have for 2017
5. If they are in the military, a 2017 Leave and Earning Statement (LES)
6. If the parent pays or receives child support, proof (documents) needs showing the
amount.
7. Both the parent and student need to be at the workshop so they can sign the signature
page using their individual FSA ID. (Only one parent needs to be there.)

If you do not have any 2017 tax information completed, you can bring your 2016 tax information to use. However, the FAFSA will have to be updated with 2017 tax information when it becomes available.

If you have any questions, please feel free to contact Mrs. Tiffany Wood or Mrs. Leilani Campbell at 270-265-2506.
Copy to Google Calendar
•
Download iCal Event